Shop & Save
The FDC Marketplace provides access to over one million participating brands and merchants, opening a world of exclusive savings opportunities with brands you already use regularly. Save money in the Marketplace while living out your faith in your daily lives as part of the Community.
Discover easy and convenient discounts that matter to YOU and YOUR everyday life. Find exclusive savings on brands you use everyday and merchants within close proximity that you know and trust.
$1500+
Typical Member Annual Savings
$5/mo or $25/yr
for Membership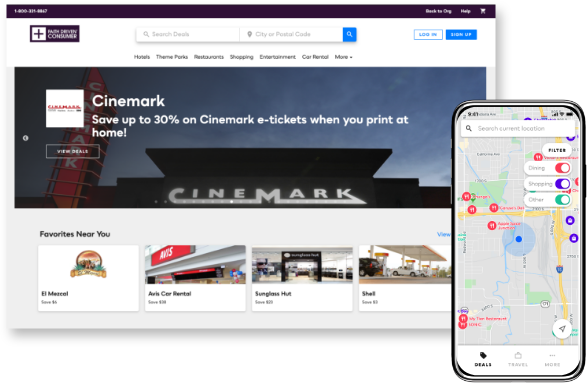 BECOME A MEMBER
Start saving today for $5/month or $25/year!
Or explore with a 7-day FREE TRIAL today!
EAT
Find your favorites right around you, and discover why other members typically save so much annually just on dining
Discover new restaurants & frequent your favorites
Local & relevant to you
$610 in typical annual savings!
SHOP
Shop your favorite national brands for member-exclusive savings
National brands at locations near you
$388 in typical annual savings at retailers!
$179 in typical annual savings at auto, health, and other service providers!
PLAY
Get back to life and FUN!  Save while going out and about, getting active with friends and family
Find attractions to break away from the normal routine
Enjoy activities you know & love OR discover something completely new
$177 in typical annual savings on theme parks and activities!
TRAVEL
Discover wholesale travel prices with significant savings over leading booking and discount sites
Book that trip – and save significantly over the leading travel and discount sites
Save on hotels, car rentals and other transportation
$356 in typical annual savings on hotels and car rentals alone!
Right Time & Place Savings